The Nigerian artist is an apt reflection of soulful music and all that matters.
If you were to describe talent in its pure and simple form, you could easily upload a picture of Godw3in, and that will be fine. Godwin Josiah Gaza, fondly known as Godw3in, is firstly a filmmaker and multiple award-winning film director, among other talents with The Critics Company based in Kaduna, Nigeria.
His creative portfolio spans filmmaking, scriptwriting, and direction, with over eight years of experience in the filmmaking space. His exceptional skills have earned him a permanent place in the league of writers and filmmakers, among notable names like Morgan Freeman, Kemi Adetiba, Lori McCreary, and many others, but that's not all.
I discovered Godw3in about three years ago through my incredible artist friend Ayanfe (love you), and ever since, I have been mesmerized by his bundle of talents. When Godw3in is not making short films or directing visual effects for a movie project, he is making ear-budding music renditions on Instagram that have you asking why he does not have an album yet, so he did a thing — Road To Nirvana.
Since the age of Seven, Godw3in has carried lyrics, melodies, and harmonies in his heart, and in 2018, he started recording. His sound is largely influenced by music genres such as Soul, R&B, and Afrobeats. Yet, he still believes his sound will evolve as he grows both as an artist and a human being. Musically he is inspired by artistes including Asa, Cobhams, and Labrinth.
Shortly after the premiere of his latest film 'War Is Coming' (Ogun Óla), produced by renowned actor and producer Morgan Freeman and his co-producer Lori McCreary, Godw3in began the rollout for his debut music project, Road To Nirvana.
Road To Nirvana hit the depths of the mental and emotional state of several listeners who bask in the warmth of the EP and found rest for their souls in the songs. Each song has a voice for someone seeking answers to a dilemma or a reason to keep going. In one sentence, It is an embodiment of emotions that restores the reality of being human.
I caught up with Godw3in to discuss his creative process, achievements, and the back story on 'Road to Nirvana'.
You're a talented filmmaker. Why music now?
Godw3in: In all honesty, music was always the end goal because it is an outlet for me to voice my thoughts without holding back. Music covers are how I practice and test my limits beyond expressing myself.
The norm often begins with a single and then progresses to an EP or album. What inspired this body of work as your debut project?
Godw3in: You're correct. Most people begin their careers with a single release, but 'Road To Nirvana' is an embodiment of messages that would not tell the complete story with one single. Using projects is how I intend to go about my music career, for the most part, as I merge both art forms (film and music) to tell my stories.
That is Interesting. What is the back story behind the title of this project?
Godw3in: I chose the title 'Road To Nirvana' because of my perception of life. I see it as a journey to our death or end. Pardon my choice of words. Most people believe there's a good place we all go to at the end of our lives, and I wanted to tell my story as intimately and relatable as possible. One time I was also listening to one of my favorite songs, 'Slow Up' by Jacob Banks, and a line struck me, "What I've learned from a traveler, there's no road that can lead you to Nirvana". That was the confirmation I needed to name my project 'Road To Nirvana'.
As a filmmaker making music, what aspect of the creative process stood out for you? Especially for ILE, which I assume is your favorite.
Godw3in: Interestingly, every song came from a place of darkness, not entirely pain, but of deep reflection. One day in the bathroom, I caught myself singing the chorus to ILE, and those words stuck with me for weeks. I had no follow-up, but I felt a real sense of expression and comfort in pain.
Another striking thing about that particular song is no one had any idea of what I wanted to sing or do before the recording session. I went to my producer, and when I yelled the chorus, the studio instantly went silent for about a minute until someone broke the silence with "Damn". Although the other songs had their processes, personally, ILE is the most interesting for me.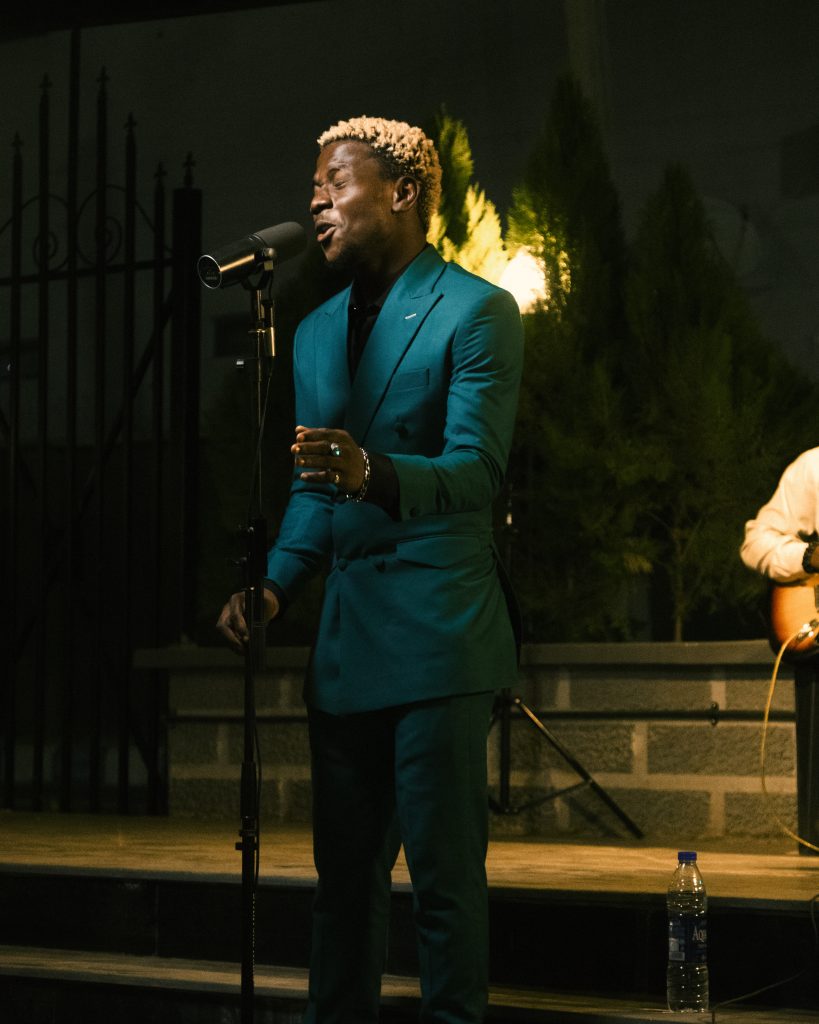 Looking at the reviews, the song NOW seems to be a fan favorite. What are your thoughts on that?
Godw3in: With Now, it is a case of everyone being a victim and guilty. It's essentially about how we fail to give people their flowers or show love while people are alive. The loss of a friend that lived and schooled in the same locality as I inspired Now. Something always came up when I wanted to visit or check on him until I heard he died. The news of his death placed a sense of guilt in my heart and inspired the song. I feel we can all relate to it, and also a reminder to be here for people now.
For an unexpected debut project, how has the reception been for you?
Godw3in: Sincerely, it is beyond my expectations. My headspace is for the long haul. I want to make music that outlives me, so even if it is not received now, it gets heard someday.
For a project without any promotion, the reception and feedback are amazing. Every day, there are thousands of new listeners, and the community I have gradually built from my music covers is growing and highly supportive. I am very grateful, and this motivates me.
Awesome! You recently celebrated your YouTube creators award as part of your filmmaking achievements. What is next for your music career?
Godw3in: I have always dreamed of performing live. I feel the best of myself when I perform live on stage. I previously turned down offers to perform live because I do not want to perform covers. Since the release of this project, I have performed on a couple of stages, and it has been breathtaking. I am very passionate about performing live, so I will continue to do so while working on my new project. I want to keep touching lives with my music. I have not studied music or have any professional knowledge. I sing how I know how to, but I keep doing online renditions to learn and improve.
This project was all you. Are you looking to collaborate on future projects, and with whom?
Godw3in: So, I have a co-writer by the name of Deborah on three of the songs, and for my next music project, there will be more collaborations as it will be more experimental. In my journey as a filmmaker, I have met many amazing people I look forward to working with in the future. Celeste is one of my all-time favorite singers, and I dream of collaborating with her one day. Jacob Banks is another artist I look forward to collaborating with because he inspires me.
What would you change if you could concerning your music?
Godw3in: My music gets inspiration from my personal experiences, and the only thing I would like differently is more buoyancy to bring my ideas to life. Like with the short films that complement each track, financial constraints made me and my brothers create with what we had, so it is more like a minimalist version of our ideas. In the end, nothing stops us from creating and telling these stories. That is the goal.
For Godw3in, his voice is not only for yelling behind a lens or remaking songs. He wants to share stories that need sharing through every art form he possesses.
In the words of Deborah Johnson, his co-writer, "We are showing them that our art matters, our hearts matter."
Godw3n's music seeks to lead the listener on a reflective journey through life and guide you to your place of solace or final destination. The peace that really matters. Now, while you are alive, with the hope that you find your way home. In Godw3in's journey, Road To Nirvana is only the beginning of a path he hopes outlives him.
Listen to Road to Nirvana here.
Other Articles