Early this year, I came across a sponsored post with a striking cover art. I checked out and it was the cover art and track list for Hameed Idowu's 'Middle ground' LP billed to drop January 14th.
I wake up that morning earlier than usual. There is a lingering appointment that comes to my head, and then I remember I have a photoshoot somewhere in Yaba.
The shoot ends. I then head to UNILAG to meet up with someone and get some food.
At the pasta restaurant, someone passes me his phone and excitedly whispers to me "Yo Noble! You sabi this Hameed guy?" I respond in the negative. He then recommends four songs – DJ 911 'Nobody' featuring Hameed x Minz, 'Pre Existence', 'Regular' off his MENATONIA IIalbum released in 2016 and my standout 'Tell the truth'.
Hameed's seemingly effortless switch between singing and rapping endeared me to his sound.
The 13 track project with just two features – Sean Tizzle and Lil Grim. It swathes the theme of love, family, diaspora struggles and patriotism over production that caters to sounds from the west and Afro-beats.
It is commendable to state how Hameed Idowu's 'Middle Ground' pays tribute to the diverse sounds that has nurtured his musical affluence.
'Super lit' is the first track on the project. It succeeds in keeping the listener interested. More considering it is just 90 seconds but with an almost unforgettable chorus.
'African Akata' is an ode to the Nigerian culture and Hameed unapologetically embraces his roots. He does this through instrumentals laced with percussion and flutes with a command of his native Yoruba language.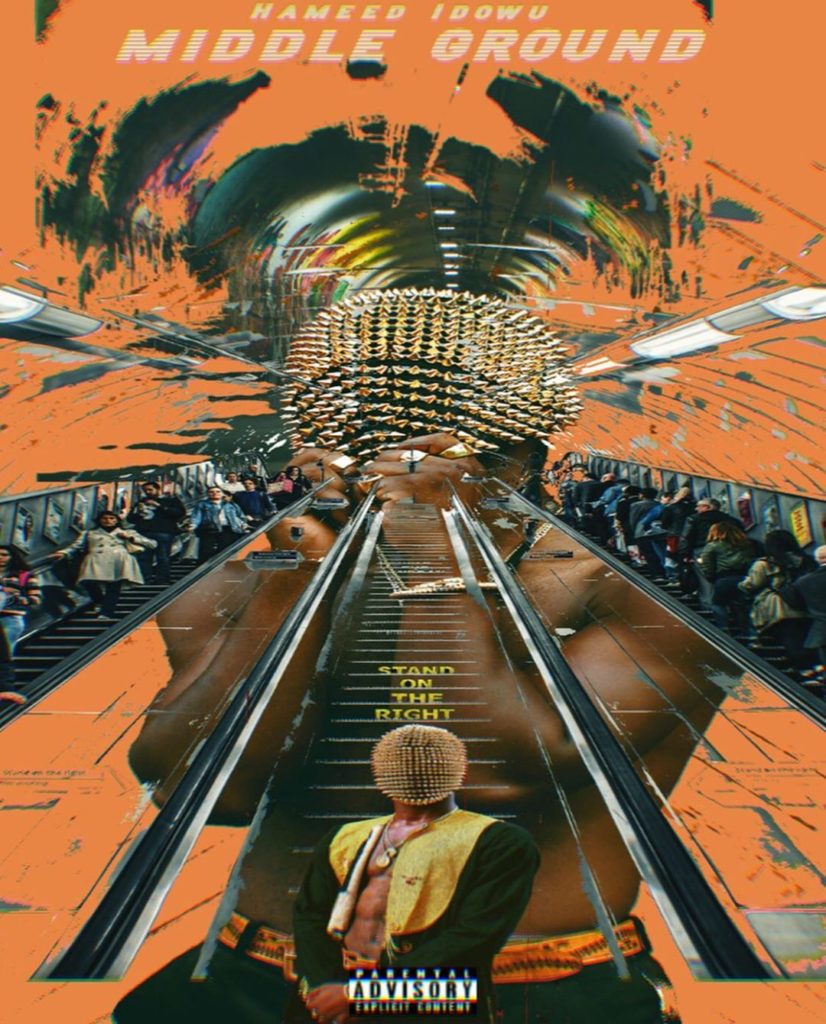 'Sacrifices' follows, and Hameed is spitting bars! Very western in delivery with an air of Travis Scott about it. On the track, Hameed documents the sacrifices he has had to make just to get to where he wants to be. Easily one of my favorite on this album.
'Okere' literally translated 'it is small'. Similarly, it is very afro-beaty in nature with beautiful trumpets, reminiscent of a trademark Kel P production.
'Ori Mi' translated 'My head' is a beautiful trap offering where the ability of Hameed to rap in English and Yoruba comes to the fore.
The song details his venture in the diaspora as a young black man. Subsequently, the track closes with a rather comical conversation in his native language urging him to remain focused.
'Oreke' is a picturesque love song. Hameed should do more love records! On a foundation of Afro-beats with intermittent hi-hats, he serenades his love interest.
The strings on 'Miss Call' are a delight and his trademark crooning of 'You know you know you know' fits in seamlessly.
"SWA" (Show what you about) on a very mild and laid-back R&B/trap beat, the song reveals the vulnerable side of Hameed as he addresses naysayers/critics and his mental space – on being in the safest space that is.
The first collaboration on this album "For Everybody" featuring Sean Tizzle exudes remarkable synergy. Similarly, Sean Tizzle inevitably comes through even though his verse was limited – kept you wanting more.
On 'Brag' Hameed and Lil Grim trade verses as they blow their trumpets deservedly so.
Finally, Hameed brings everything to a halt with 'Outro Lucifer'. An introspective tune, he drops gems of wisdom while showing good rapping skills.
Final Thoughts
Hameed is very calculated. It is something worth emulating from having an opening track that put you in a position of wanting more.
'African Akata', 'Okere', 'Ori Mi', 'Amen', 'For Everybody' and 'Go slow' those were songs that upheld his Nigerian roots even though he infused it in almost every song.The other songs like 'Sacrifices' 'Brag', 'Outro Lucifer', 'SWA' and 'Super lit' thrived on the western influences on his music.
The 'skit' towards the tail end of 'Ori Mi' failed to achieve its purpose if it was meant to humor the listeners. Therefore, should also have been left out.
Finally, 'For Everybody' was an amazing collaboration although not enough Sean Tizzle.
Dear Hameed, keep making good music – the world would adjust!
Words by Ejiroghene Oghenetegha
Follow RADR Africa and LOUDR Magazine on Twitter.
Other Articles